Getting a used office machine for your business doesn't have to be scary. We are used to hearing people voice their concerns about getting a used office machine for their business. The most common thing that we hear is that people are concerned about being stuck with problems that someone else didn't fix. This doesn't have to be the case at Albuquerque Copier. We take pride in getting the best used office machines for your business.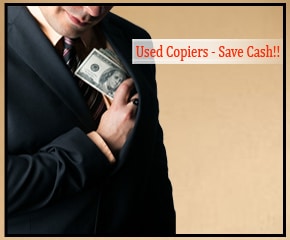 All of our machines are received from responsible businesses that took great care of their machines during their previous leases. We then have all of our machines looked over by our team of amazing technicians. This two step process helps to make sure that your used office copier is going to be in great shape when it arrives at your workplace.
Getting a used office machine can be a great option for a number of reasons.
They are cheaper than a new machine.

You can save money in the long term. You will have to make the entire purchase up-front, but you will definitely be saving money over time.
More options.

Going with a used office machine means that you have more options to look at you. You could actually end up with a better machien that you might have been able to afford originally by going with a used machine. You an get the most for your money and have a great variety of options to look at.
No leasing company.

This is the thing that most people like the most. You have no monthly payments, and don't have to worry about answering to some company all the time. The machine is yours from day 1, so you can do whatever you like with it.
There are a number of reasons as to why getting a used office machine could be a great option for you. Give us a call to learn more about getting one of our great used office machines.