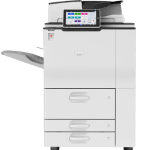 The Ricoh IM 8000 is a great black and white copier if you are looking to lease or buy in the Albuquerque area. One of the reasons that people in choose this copier is because it has the ability to copy, scan and print up to 80 pages per minute. You can maximize your productivity in the office. The copier can handle a heavy workload without any problems.
The IM 8000 gives you the ability to choose how you work. You can adjust the settings on the device in order to meet your needs. You can also control the copier with the one-touch control.
The Ricoh IM 8000 will allow you to stay productive while you are on the go. There is a Ricoh Smart Device Connector app that you can download on your mobile phone and use to print. You do not have to use any drivers, utilities or software. You can also scan a QR code and share images. If you do not want to print immediately, then you can save them and print later.
The Ricoh IM 8000 is a great option for the environmentally conscious person. It is an EPEAT Gold Rated and Energy Star certified device. There are also ways that you can control the amount of energy that you use. You can change the settings to where the device automatically turns off when you leave the office. You can also recycle the cartridges after you have finished using them.
Additionally, you can use the motion detection sensor. It has the ability to deactivate the sleep mode when it senses that someone is approaching the copier. You also have the ability to keep track of the amount of paper that you are saving by using the eco-friendly indicator.