A black-and-white laser multifunction copier, the ALB- Ricoh IM 9000 produces an astounding 90 ppm. For the largest offices with incredible demand, you will find no long lines at the copier. This is one of the copiers where you will upgrade to the optimal level of productivity. The paper capacity allows for up to 8,700 pages.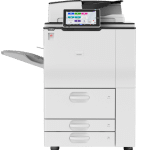 Long-term productivity will increase the chances of success and prosperity at your company. In the office, you want to keep pace with the demands, and this heavy-duty workhorse will push out enough pages to guarantee it. Because of a feature known as Ricoh Always Current Technology, you can update the software and download new technologies as soon as they become available. This boosts your performance and ensures that you remain competitive with the market.
Every day you will have demands set on you, and you must deliver on them in a timely fashion. Some of the examples where you might need this level of output include schools, mailrooms and collaborative office spaces. You can raise your productivity through the automating of time-consuming manual tasks.
Coming in at 1200 x 1200 dpi, the IM 9000 can print classroom materials, legal binders and presentations. With the Single Pass Document Feeder, you can scan up to 240 images per minute. As the need arises, share your digital files instantly to allow for easy collaboration. Whenever the IM 9000 requires maintenance, you will receive alerts to keep your service from getting interrupted.
Because of its mobile technology, you can work from anywhere. Print remotely and share your files from the smartphone or the tablet. You can choose to print with either Mopria or AirPrint. To get started, scan the QR code for easy hands-free printing.