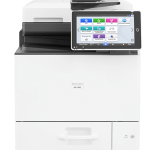 The Ricoh IM C400F is a great device for your office. If you are in the Albuquerque area and are looking to lease or buy a new copier, this device will allow you to get more work done in less time. This copier can fax, scan, copy and print up to 45 pages per minute. The paper capacity is 2,300 pages. Additionally, there are apps and software that allow you to upgrade your performance.
The Ricoh IM C400F is a MFP that can copy and print in color. It is also an efficient product. There are several ways that you can enhance your efficiency. For example, you can access the cloud services by connecting to the internet. There are also tasks that you can do with the touchscreen.
If you have a problem with your copier, then you can quickly get the help that you need. There are how-to videos that you can watch that will show you how to troubleshoot common issues. If you have an issue that you cannot resolve by yourself, then you can access RemoteConnect Support. There are remote technicians that will work with you to solve the issues that you are having.
The IM C400F is a great choice for leasing because you can securely use it. You have the ability to authenticate your users with QR codes and passcodes. You can also use a Near Field Communications, or NFC, reader. This will ensure that only authorized personnel will be able to use this device.
Furthermore, the IM C400F allows you to conserve your energy. It only consumes about 0.54 KWH/week. If your copier is idle for a while, then it will automatically go into sleep mode. You can conserve paper by using the duplex printing option.

Call us today if you are interested in the Ricoh IM C400F, or you want to learn about any of our other options!